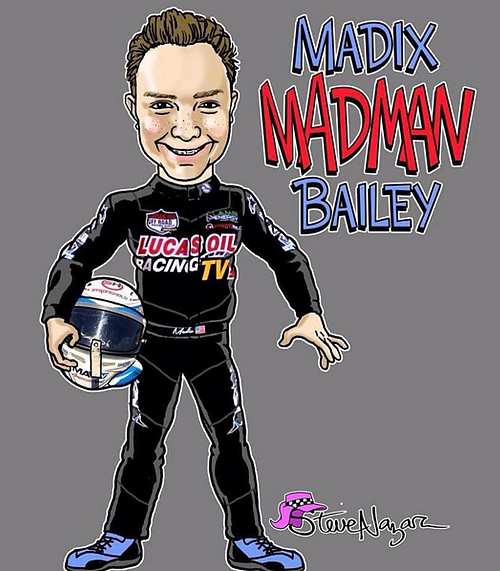 Our youngest driver, Madix Bailey, has a new logo created by OG artist Steve Nazar.
Steve Nazar, renowned cartoonist and illustrator, is very pleased to be providing his services and support to Madix "Madman" Bailey and team Stronghold. Mr. Nazar is best known for being the creator of the globally successful T&C Surf Designs character; Thrilla Gorilla, Joe Cool and Da' Boys. Additionally he has also created many graphics made famous by Op Sportswear and Big Dogs Sportswear. He was art director for the games division of JVC Digital Arts for several years. He has created designs for many major contemporary retailers including; The Hundreds, Pac Sun and Fatal. He also creates snow board and skate board graphics for many major manufacturers. He enjoys doing painting commissions for corporate and private collectors. He has recently begun venturing into the world of gallery showings, with successful showing already accomplished in New York, Honolulu and Seattle. Steve looks forward to being a part of Madix's continued success in his division.
Look out for this design throughout the 2016 season!
STRONGHOLD MOTORSPORTS 2016 SCHEDULE
FEB 4 – 7 Best in the Desert Parker 425, Parker, AZ
FEB 25 – 27 Round 1 Lucas Oil Regional Series, Glen Helen Raceway, San Bernardino, CA
MARCH 10 – 13 Best in the Desert Mint 400, Las Vegas, NV
MARCH 19 – 20 Lucas Oil National Series, Wild Horse Pass, Chandler, AZ
APRIL 2 – 3 Round 2 & 3 Lucas Oil Regional Series, Lake Elsinore Motorsports Park, Lake Elsinore, CA
APRIL 23 – 24 Lucas Oil National Series, Lake Elsinore, CA
APRIL 23 – 27 National Off Road Racing Association, Mexican 1000, Baja, MX
MAY 5 – 8 Best in the Desert Laughlin Desert Classic, Laughlin, NV
MAY 13 – 14 Round 4 Lucas Oil Regional Series, Glen Helen Raceway, San Bernardino, CA
MAY 21 – 22 Lucas Oil National Series, Utah Motorsports Campus, Tooele, UT
JUNE 18 – 19 Lucas Oil National Series, Baja International Short Course, Ensenada, MX
JULY 8 – 9 Round 5 (Night Race) Lucas Oil Regional Series, Glen Helen Raceway, San Bernardino, CA
JULY 23 – 24 Lucas Oil National Series, Glen Helen Raceway, San Bernardino, CA
AUGUST 13 – 14 Lucas Oil National Series, Wild West Motorsports Park, Sparks, NV
AUGUST 17 – 20 Best in the Desert Vegas to Reno, Las Vegas, NV & Reno, NV
SEPTEMBER 10 – 11 Round 6 & 7 Lucas Oil Regional Series, Lake Elsinore Motorsports Park, Lake Elsinore, CA
SEPTEMBER 23 – 24 Lucas Oil National Series, Lake Elsinore Motorsports Park, Lake Elsinore, CA
OCTOBER 6 – 9 Best in the Desert Blue Water Desert Challenge, Parker, AZ
OCTOBER 7 – 8 Round 8 Lucas Oil Regional Series, Lake Elsinore Motorsports Park, Elsinore, CA
OCTOBER 22 – 23 Lucas Oil National Series, Wild Horse Pass, Chandler, AZ
DECEMBER 1 – 4 Best in the Desert Pahrump Nugget 250, Pahrump, NV
STRONGHOLD MOTORSPORTS SPONSORS
MavTV * Lucas Oil * Toyo Tires * Stronghold Engineering * Lamb Energy * Kroyer Racing Engines * Pro Power Racing * K&N Filters * Terrible Herbst * King Off Road Shocks * Gresham Savage * Pacific Premier Bank * Steve Nazaar * Pro Am Racing Products * Power Steering Solution * Protect the Harvest * Fiberwerx * Sign Pros * Inland Powder Coating * Eibach Springs * Rigid Industries LED Lighting * Uncle Ray's Pit Crew