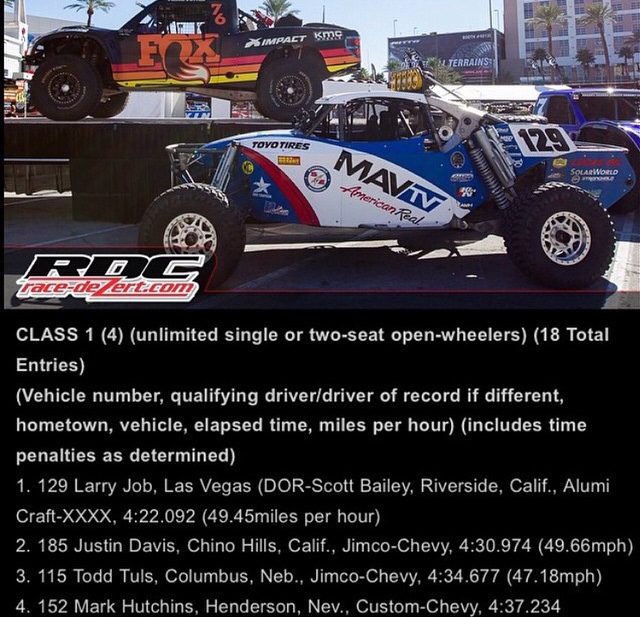 RIVERSIDE, California (November 12, 2014) – Stronghold Motorsports will close the 2014 off road racing season this week by making its first appearance in the legendary SCORE Baja 1000.
Scott Bailey, Brandon Bailey and Larry Job will divide the driving duties in the MAVTV/Toyo Tires/SolarWorld AlumiCraft Chevrolet Class 1 car for a desert marathon of approximately 1,275 miles down and across the Baja California peninsula from Ensenada in the north to La Paz in the south.
Job last week turned in the fastest lap in the class at a qualifying session in Las Vegas and Stronghold will be the first Class 1 car to take the green flag when the four-wheel entries get under way beginning at 12:30 p.m. on November 13th. (The motorcycle classes will get under way at 6:30 a.m.)
The Trophy-Trucks will be the first four-wheel class to start with the Class 1 entries next. The vehicles in those two classes will get the green flag in 60-second intervals and each entry will have 49 hours to finish the longest Baja 1000 in history.
As of November 10, there were 230 entries with drivers and co-drivers representing 33 states and Guam and 16 foreign countries, including Thailand, China and Egypt.
"We've been doing a lot of hard work in the shop and I think we're ready to go," Brandon Bailey said. Brandon, who drives the team's Pro 4 truck in the Lucas Oil Off Road Racing Series, will be racing in Mexico for the first time. Scott Bailey competed in the NORRA Mexican 1000 in May and Job, the team's Pro Buggy driver in short course events, is a veteran of desert racing in the U.S. and Baja California.
All three drivers took part in Stronghold's four Best in the Desert races earlier this year.
"This will be my first actual race in Mexico," Brandon said, "but we've been going down with the Herbst team for the past few years for pre-running so I kind of understand what we're getting into. It's going to be fun. It should be good.
"We want a podium (top three finish). That's what we're going there to do. I think with our strategy and the team we have that we can accomplish that. It's not going to be easy, obviously. But I think we'll do our homework and we'll be sitting in the right position. We'll have a good car. We definitely have good mechanics and good co-drivers.
"I think we're ready."
The 47th annual SCORE Baja 1000 will be covered by the CBS Sports Network for broadcast at a later date. The Las Vegas qualifying session will be shown at 9 p.m. EST on Sunday, December 21. The race will be televised at 9 p.m. EST on Sunday, December 28.
It will be the final race of the year for Stronghold Motorsports.
STRONGHOLD MOTORSPORTS 2014 SCHEDULE
JAN 31 – FEB 2 Best in the Desert BlueWater Parker 425 desert race, Parker, Arizona
(Finished second in Class 1, 16th Overall)
MARCH 14 – 16 Best in the Desert General Tire Mint desert race, Las Vegas
(Finished fifth in Class 1, 16th overall)
MARCH 22 – 23 Lucas Oil Off Road Racing Series, Wild Horse Motorsports Park, Chandler, Arizona
(B. Bailey 9 & 5, Pro 4; Job 5 & 11, Pro Buggy; M. Bailey 1, Jr. 1 Kart)
APRIL 25 – 26 Lucas Oil Off Road Racing Series, Lake Elsinore (California) Motorsports Park
(B. Bailey 5 & 5, Pro 4; Job 6 & 19, Pro Buggy; M. Bailey 6, Jr. 1 Kart)
MAY 2 – 4 Best in the Desert Canidae Tap It SilverState 300
(Finished 14th in Class 1500, 34th Overall)
MAY 10 – 14 NORRA Mexican 1000, Ensenada to Santa Rosalita, Baja California, Mexico
(Finished 6th in Evolution Unlimited Class, 7th Overall)
MAY 30 – 31 Lucas Oil Off Road Racing Series, Wild West Motorsports Park, Sparks, Nevada
(B. Bailey 9 & 10, Pro 4; Job 15 & DNS, Pro Buggy)
JUNE 21 – 22 Lucas Oil Off Road Racing Series, Miller Motorsports Park, Tooele, Utah
(B. Bailey 6 & 10, Pro 4; Job 9 & DNS, Pro Buggy; M. Bailey 6, Jr. 1 Kart)
AUGUST 1 – 2 Lucas Oil Off Road Racing Series, Glen Helen Raceway, Devore, California
(B. Bailey 10 & 5, Pro 4; Job 6 & 14; M. Bailey 6, Jr. 1 Kart)
AUGUST 14 – 16 Best in the Desert General Tire Vegas to Reno
(Finished 21st in Class 1500; 79th overall)
AUGUST 22 – 23 Lucas Oil Off Road Racing Series, Wild West Motorsports Park, Sparks, Nevada
(B. Bailey 8 & 6, Pro 4; Job 6 & 14, Pro Buggy)
SEPTEMBER 19 – 20 Lucas Oil Off Road Racing Series, Las Vegas Motor Speedway
(B. Bailey 8 & 7, Pro 4; Job 4 & 11, Pro Buggy; M. Bailey 4 Jr. 1 Kart, 7 Jr. 2 Kart)
OCTOBER 24 – 25 Lucas Oil Off Road Racing Series, Challenge Cup, Lake Elsinore, California
(B. Bailey 8 Pro 4, 24 P2-P4 Challenge; Job 10, Pro Buggy; M. Bailey 2 Jr. 1, 13 Jr. 2 Challenges)
NOVEMBER 12 – 16 SCORE Baja 1000 desert race, Ensenada, Baja California, Mexico
STRONGHOLD MOTORSPORTS SPONSORS
MavTV * Lucas Oil * SolarWorld * Toyo Tires * KC Hilites * Stronghold Engineering * Lamb Energy * VP Racing Fuels * Go Pro * Kroyer Racing Engines * Pro Power Racing * K&N Filters * Pro Am Racing Products * Power Steering Solution * Alumicraft * Motive Gear * MSD Performance * Boot Campaign * Protect the Harvest * Fiberwerx * Sign Pros * Inland Powder Coating * Eibach Springs * American Wiring Harness * Simpson Race Products * Corona Motorhome Rentals
MEDIA CONTACT: Alyssa Bailey | alyssa@teamsei.com