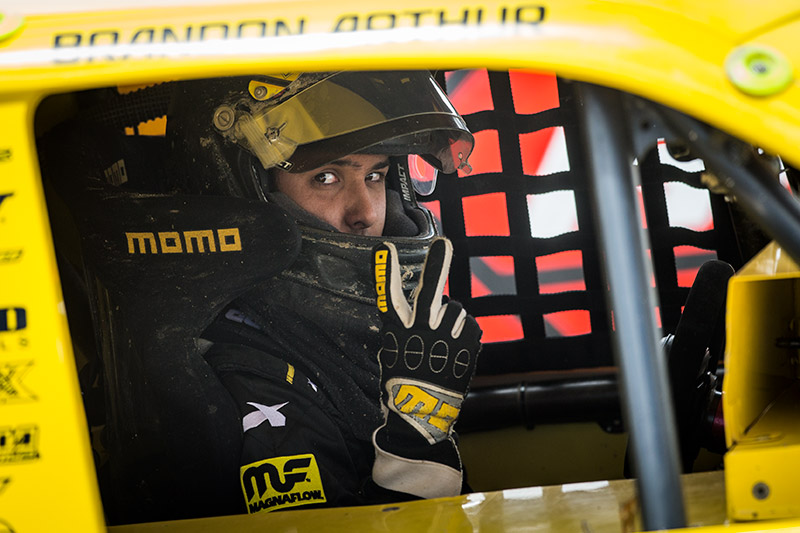 The 2017 Stronghold Motorsports Team looks to add some impressive wins this year with the help of poised and talented driver Brandon Arthur.
Brandon is a young and experienced driver with an already impressive resume in his diverse racing career. Competing in the Lucas Oil Off Road Racing Series, Brandon will be racing in the Pro Lite class where he has been a championship contender the last 3 years. Brandon has proven himself a top competitor since 2008 when he won the Jr2 Trophy Kart Championship. Not only a talented driver but a skilled fabricator as well, he built a 1400 Class desert racing truck and won the 2012 HDRA, 1400 Championship. In 2014 Brandon posted several top finishes and a victory in his rookie year of the Pro Lite class in the Lucas Oil Off Road Racing Series.
In 2015 he finished third overall in the LOORS Pro Lite class with 9 podium finishes, 2 of them wins. Arthur finished 2nd in championship points in the 2016 Pro Lite season and is looking to bring home the Championship in 2017.
Not only is Brandon a huge asset to the team's Short Course program, but Brandon will also bring his skills to the Desert program as well. Joining Brandon Bailey in the MAVTV Class one, Arthur looks to provide his experience in desert racing to put Stronghold Motorsports on top. Bailey and Arthur will be competing in the Mint 400, Vegas to Reno and the Baja 500. Keep an eye on this fan favorite, as he is sure to have an electrifying 2017 season.