With a long and anxious off season, the Stronghold Motorsports team headed out to Wild Horse Pass Motorsports Park in Chandler, AZ for rounds 1 & 2 of the Lucas Oil Off Road Racing Series. While the weekend brought on a few challenges and crashes, the Stronghold drivers and team still found plenty of room on the podium.
Stronghold Motorsports' newest team member for the 2017 season, Brandon Arthur, put together a competitive and emotional weekend competing in the Pro Lite Unlimited and the Production 1000 UTV classes.
New to the Lucas Oil Off Road Series, The Production 1000 UTV Class would prove to be an exciting and dominating race for Arthur in Chandler, AZ. Saturday would see Arthur in fourth after lap one and would take the lead on turn one of lap four. From there Arthur would continue to hold the lead and take the top of the podium. After a huge victory in the UTV class, Arthur would then go on to fight in a tight and competitive race in the #6 MavTV/Toyo Tires Pro Lite. By lap 11 Arthur moved his way up the pack to battle for fifth and eventually overtake the position on turn three of lap 13. Brandon held his position and finished the race in 5th.
Sunday again played in the favor of Arthur in the UTV class where he battled his way into first and held his lead to take the win for a clean sweep weekend in the Production 1000 UTV class.
"It feels really good to have won both days in the UTV class. We just had finished the car for the regional races so we have not had much time to test but we have got a pretty good set up for the car. We are going to make a couple of shock changes before we head down to Mexico for the next 2 rounds of racing."
While it seemed like destiny to be on the podium, day 2 in the Pro Lite brought upon a tough end to the weekend for Arthur. After a long yellow flag on lap 7, Arthur and another driver collided going into turn two of the restart lap causing his truck to roll four and a half times off the track. Fortunately, he was okay and able to walk away from the wreck, but it spelled the end of the race and weekend for Arthur.
"Overall the weekend wasn't good but wasn't bad. Now we are going to focus on just getting the Pro Lite to the podium and try and salvage a season from a pretty rough start. As for the UTV, we are going to put our heads down and make a hard charge for the championship with that."
Young and seasoned driver Madix Bailey unfortunately found himself in a frustrating weekend, with a roll over and a DNF on both Saturday and Sunday. It was a tough two days of racing for Bailey and he will now have to put together a solid run in the next rounds of racing in order to put himself back in contention for the championship. We sat down with Madix to get his insight on the race and his his plans and goals moving forward.
Despite a disappointing race weekend, did you learn anything that you can take into the next race, and what is your plan going into regionals this weekend in Lake Elsinore?
"One thing I learned was other peoples' driving habits, which will help me in the long run try to figure out what lines other drivers will take and how deep they will go into the turns.
My plan for this weekend is to go out and just run my race because it is a regional and I want to get more practice for nationals."
This is your first year in the Mod Kart, how much different is it than the Jr1 and Jr2 Karts?
"It's definitely way different because now you have to shift and you can actually throw the car into the corners way better and you are able to power out of them better."
And of course you can go a lot faster right?
"Haha, ya that's always way more fun!"
What is your goal for this year. Are you going for the championship?
"I really want to try and get the Rookie of The Year this year and maybe go for the championship, but for sure use this year as a learning tool."
The 2017 opener was a debut for new classes and drivers, including young and poised driver Irie Bailey. Following in the footsteps of her older brother Madix Bailey and father Brandon Bailey, it was Irie's turn to put her talents behind the wheel. Bailey charged hard and kept herself in the top 5 for the beginning of the race, but would get a little more aggressive and power her way up the pack. After a lap six caution and restart, Bailey took a hold of the third position and held onto the spot for the rest of the race, claiming a 3rd place finish in the Junior 1 Kart, and her first podium of her rookie season.
You got your first podium and a 3rd place finish. What was going through your head on the last lap and how did you feel after the race?
" I was just like, I gotta keep this, I gotta keep this, I gotta keep this, because if I lose it I am going to be so mad at myself. I was really happy. I kept yelling I got third, I got third to my spotter Troy and he was like calm down Irie, calm down. I was just so excited because it was my first podium and it's really exciting when you get up there."
Most importantly, are you having fun out there?
"I am. I have always watched Madix race and I always wanted to jump into the car and try it myself. It's so much fun to go out there and race."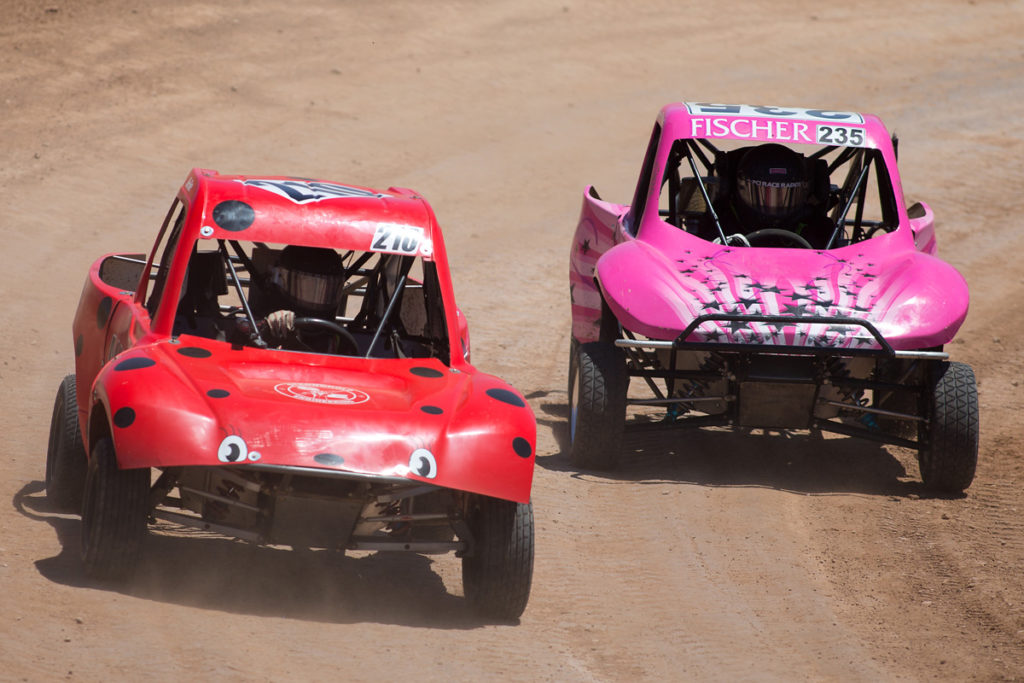 After an up and down opening weekend, the Stronghold Motorsports team looks ahead to the Lucas Oil Regional Series in Lake Elsinore, where the team hopes to put together a strong performance before heading into rounds 3 & 4 of the national series in Ensenada.
More photos from Rounds 1 and 2 below.
Photos by – HighRev Photography – @Highrevphoto – On Facebook