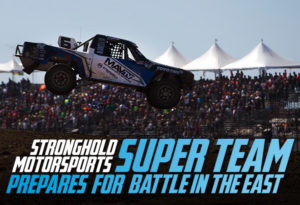 With less than two weeks until the inaugural LOORRS, GEICO Off Road Shootout in Missouri, the crew over at the Stronghold Motorsports shop have flipped it into over-drive to get the cars prepped and ready for the long journey east to the all new off-road race track at Lucas Oil Speedway in Wheatland Missouri.
A long time sponsor and supporter of Stronghold Motorsports, Lucas Oil has been working hard on the construction and addition of the all new short course off-road track to the famous Lucas Oil Speedway in Wheatland, MO.  The new mile-long track will feature seven left turns, an over/under bridge jump and a huge 60-foot tabletop jump that will be sure to get the fans on their feet. Also unique to the track will be the fan experience VIP suites which will feature four 20×20 Skybox suites included with furniture, tables, a VIP host, dedicated grandstand seating and food and beverages. With construction beginning more than a year ago, the drivers, teams, and fans are extremely excited and anxious to see what Lucas Oil has put together for the sport.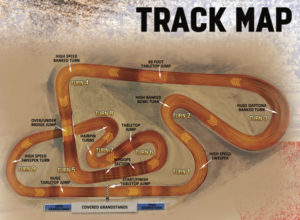 "The Off-Road track is really going to be something to see with side-by-side action and high-flying jumps," Robinson said. "Off-Road racing is mostly associated with the West Coast and in the desert, so this is unlike anything in this part of the country in motorsports and we're eager to debut it in just one month."
 – Dan Robinson / Lucas Oil Speedway General Manager ( source – Lucasoilspeedway.com
After a favorable weekend in Utah, with Brandon Arthur grabbing a first place finish and his first podium of the season in the #6 MavTV/Toyo Tires Pro Lite, the team will look to carry this momentum 1,600 miles east for the most anticipated race weekend of the season. While the team has mainly been focused on the Pro Lite and Mod Kart in the National series, Stronghold is super excited to announce that Brandon Bailey will be returning to make his season debut in the Pro 4.

Joining Brandon Arthur, Brandon & Madix Bailey in Wheatland, is the return of Larry Job under the Stronghold Motorsports banner. Excited to have Larry join forces for this epic race weekend, the team looks forward to having him back in the Pro Buggy and representing Stronghold Motorsports at Lucas Oil Speedway on July 22-23.