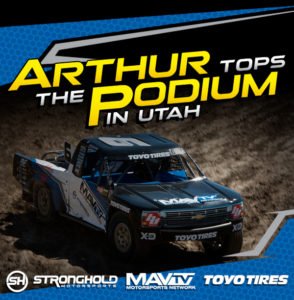 After a frustrating start to the season plagued by wrecks and collisions, Arthur and the Stronghold Motorsports team were eager to get back into winning form coming into Utah. Prior to race weekend and determined to turn things around, Arthur brought out the Pro Lite to the Lucas Oil Regional Series in Lake Elsinore in order to gain some valuable seat time and practice. Driving hard and looking fast, he captured back to back podium wins for the weekend.
How important were those races coming into Utah?
"The Lucas Oil Regional race was a great step to get the truck back to where we needed it to be. The track was very similar to what we raced in Utah so that was a lot of help."
Coming into Saturdays race, Arthur put together a solid driving performance in qualifiers earning him a first place qualifying run. Battling it out in the top five with a highly competitive field of drivers, Arthur would have to run a fast and smart race to keep himself alive and drive his way into a podium. Sitting in fourth position on lap five, Arthur was able to capitalize on a wide turn by the driver ahead of him and overtake the third place position. While running a strong race, Beat was able to over take Arthur for third on turn four of the second to last lap and would not be able to make his way back around and would finish in fourth.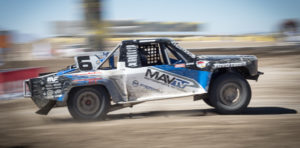 Again it would seem as bad luck would strike down Arthur and keep him off the podium, but an overall great performance and competitive race on Saturday would keep his confidence high going into the next race on Sunday.
At the start of the race on Sunday and sitting in third coming into lap two, Arthur capitalized on a mistake by Heger and was able to overtake the second place position. A bad luck flat tire for the leader mid race would allow the pack to move up and Arthur to take a hold of the lead. Determined to hold onto the lead and a podium in his sights, Brandon charged hard and put a solid distance between him and the rest of the pack and would hold his lead to take home his first win of the season in the #6 MavTV/Toyo Tires Pro Lite.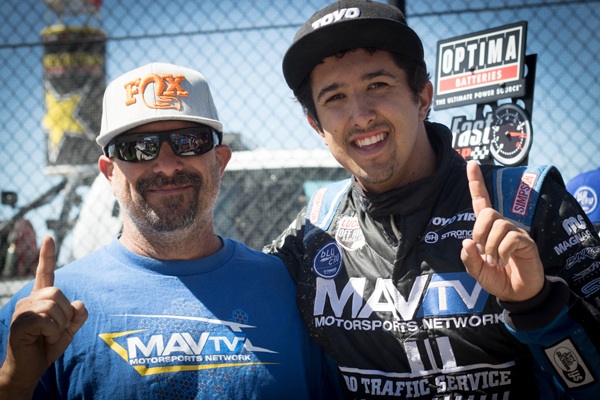 With some struggles early on this season, how does it feel to get the win in the Pro Lite?
"This win is a huge accomplishment for the team. The Struggles early in the season only make the win feel that much better for the entire team. We have been working hard to get this truck back to where it needs to be. Feels so great to get back up on the box."
A solid weekend for you with some great driving, how are you feeling about where you and the team are now before heading into Wheatland, MO for the next rounds of racing?
"I feel we are in a great position as a team and with the truck back to where it needs to be we are very excited to head out to Wheatland to get to know this new track and see what we can do there."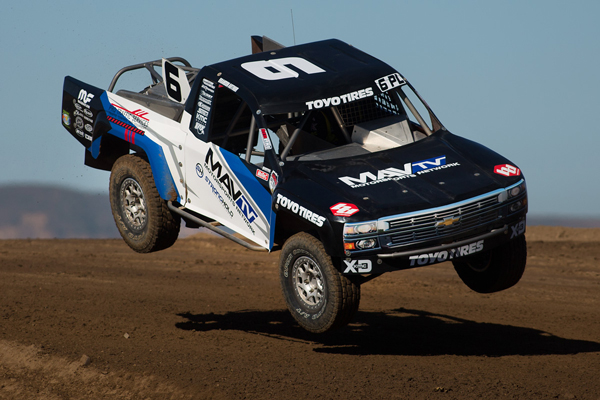 A huge win for Stronghold Motorsports, the team will now focus their attention to rounds 7 & 8, for the all new track at the Lucas Oil Speedway in Wheatland, MO. With only four weeks time until race weekend, the Stronghold Motorsports team will have to put in some hard work as they prep the Pro 4 and Pro Buggy for their season debut.